"Remember the Alamo"

The Alamo was built in 1724, first named Misi贸n San Antonio de Valero and was originally intended to serve as a home to missionaries and their converts in this region. The Alamo served as home to missionaries and their Indian converts for nearly seventy years. Construction began on the present site in 1724. In 1793, Spanish officials secularized San Antonio's five missions and distributed their lands to the remaining Indian residents.
In the early 1800s, the Spanish military stationed a cavalry unit at the former mission. The soldiers referred to the old mission as the Alamo (the Spanish word for "cottonwood") in honor of their hometown, Alamo de Parras, Coahuila. The post's commander established the first recorded hospital in Texas in the Long Barrack. The Alamo was home to both Revolutionaries and Royalists during Mexico's ten year struggle for independence.
The Alamo is famous for a battle that lasted only thirteen days. It began in 1836 on February 23rd and ended on March 6th.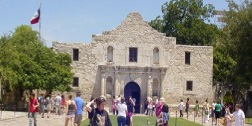 The people involved were Davy Crockett, adventurer James Bowie and Colonel William Travis. Colonel Travis drew a line in the sand and asked all of his men of 182 if they were willing to die for the cause. They all chose to stand strong although the reality of death was an imminent thought in their mind.
The Mexican president was Antonio Lopez de Santa Anna. Santa Anna cornered Colonel Travis and his 182 men. With their backs to the wall, they fought back against an army of 4,000.
The defenders held out for 13 days against Santa Anna's army. William B. Travis, the commander of the Alamo, sent forth couriers carrying pleas for help to communities in Texas. On the eighth day of the siege, a band of 32 volunteers from Gonzales arrived, bringing the number of defenders to nearly two hundred.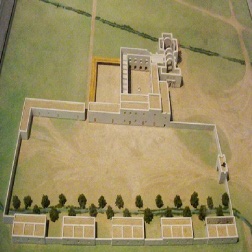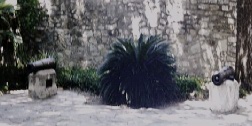 The final assault came before daybreak on the morning of March 6, 1836, as columns of Mexican soldiers emerged from the predawn darkness and headed for the Alamo's walls. Cannon and small arms fired from inside the Alamo, beat back several attacks. Regrouping, the Mexicans scaled the walls and rushed into the compound. Once inside, they turned a captured cannon on the Long Barrack and church, blasting open the barricaded doors. The desperate struggle continued until the defenders were overwhelmed. By sunrise, the battle had ended and Santa Anna entered the Alamo compound to survey the scene of his victory.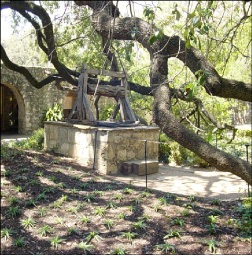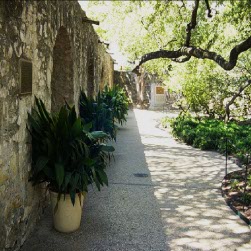 James Bowie was reportedly the last man fighting in the demise. They fought bravely, but the Mexican army was too strong. The men died for the cause of liberty and freedom of Texas. They call it the most gallant stand of courage and self-sacrifice with a lasting battle cry that is still heard in Texas today as "Remember the Alamo".
The cry speaks of heroism, patriotism and bravery.